About Us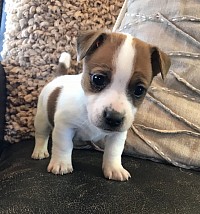 A little about Bear Creek JRTs...
Bear Creek Jack Russell Terriers is a small show / hobby kennel with over 25 years experience raising top quality Jack Russell Terrier puppies for sale in Texas. We pair the best to the best, seeking to improve our dogs with each generation. Our focus is on the "complete dog" keeping in mind not just structure but also health and temperament.
Bear Creek offers quality companion puppies with loving personalities that are suitable for most ages and lifestyles. We raise both the smaller (under 12 inch) type of Jack Russell also known as shorties / shortys or short legged Jack Russells and the standard size (over 12 inch) Jack Russell that are sometimes referred to as long legged or Parson Russell Terriers.

We are looking for forever homes for our Jack Russell Terrier puppies. If you can provide such a home, we welcome you to pick your Jack Russell puppy up at our home in Aledo, Texas. We are just west of Dallas and Fort Worth, Texas, 3 hours from Austin,4.5hours from San Antonio, and 5 hours from Houston. When you take home a Bear Creek Jack Russell Terrier you can be assured you are getting a healthy, quality companion puppy or show / performance prospect.

Call/text: (682) 597-4128
Follow us on Facebook: fb.me/bearcreekjackrussells