Deposits and Payments
Nonrefundable $250 Puppy Deposit


A deposit may be made to reserve a currently available puppy or pick of a future litter. Deposits may be made in the following ways...
1."Friends and family" payment via PayPal. Add 3% fee for non friends and family payments. Use the following link: 
2. Zelle, CashApp, Venmo payment to (682) 597-4128.
3. Facebook Pay.
4. Apple Pay.
5. Check by mail. (Please note puppies are not held until check is received).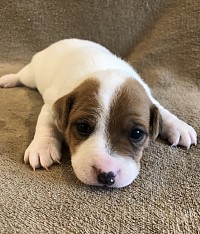 Remaining Balance Payment Options


1.  Cash at pickup.
2.  PayPal "friends and family" payment (preferred) OR regular PayPal payment with 3% fee added. We can send you a link via email or text to pay this way or you can use our link:  paypal.me/shelley1pardue
3.  Credit cards taken at pickup. A 3% surcharge will be added to cover processing fees.
4. Zelle, Venmo or CashApp payment to (682) 597-4128.
5.  Facebook Pay. 
6. Apple Pay.